D2-4200 Powerul 2 Ом стабильный цифровой усилитель мощности для сабвуфера
Model: D2-4200
Channel: 2 channel power amplifier
Feature: 1U/Digital Amp/2 Ohms Stable
Output Power:
8Ω Stereo Power (RMS): 4,200W X 2CH
4Ω Stereo Power (RMS): 7,800W X 2CH
2Ω Stereo Power (RMS): 8,500W X 2CH
Warranty: 3 Years
ОПИСАНИЕ
Attention:
① Currently, only the D series shipped from China is the gallium nitride version.
② The shipment from the US/Mexico/Europe warehouse is still non gallium nitride versions (two versions are shipped randomly, please do not place an order temporarily if not acceptable. Please consult us for specific details)
D2-4200 FEATURE:
●2 Channel Class D Digital power amplifier
●Mini 1U size,convenient for Touring Applications
●Suit for Stage Power Subwoofer speaker;
●Work Under 2Ω steadily !
●Precise and Reasonable circuit structure
●Bring supper reliable sound
●Bridge-mode operation
●Original Neutrik XLR*/Speakon connectors
●Temperature protection;Over current protection;Short circuit protection built-in
D SERIES HIGH POWER DIGITAL AMPLIFIER (DSP can be added)
Model
D2-3000
D2-3500
D2-4200
D4-2000
D4-3000
EIAJ Test Standard,1 kHz, 1% THD
8Ω/Stereo
2 x 3000W
2 x 3500W
2 x 4200W
4 x 2000W
4 x 3000W
4Ω/Stereo
2 x 5000W
2 x 6300W
2 x 7800W
4 x 3400W
4 x 5000W
2Ω/Stereo
2 x 7140W
2 x 7400W
2 x 8500W
4 x 4760W
4 x 6500W
8Ω/Bridge
1 x 10200W
1 x 12500W
1 x 15600W
2 x 6800W
2 x 10000W
4Ω/Bridge
1 x 14280W
1 x 14800W
1 x 17000W
2 x 9520W
2 x 13000W
Alternating Current Power Supply
Power
PFC Power
Rated power demand
100-240V±10%, 50/60Hz
Operation voltage
90V-270V
Power correction factor cos(φ)
>0.95 @ >500W
Standby
47W and 0.8A
Gain,Sensitivity
32dB,35dB,38dB,41dB
Maximum Output Voltage/Current
185V/85A (370V in the BRIDGE MODE)
Power Comsumption
230V (115V in the BRIDGE MODE)
Temperature
Environment temperature
0°-45C / 32′-113*F
Cooling system
Tunnel through cooing system
Performance
Frequency Response
20Hz - 20kHz (1W@8Ω,+05 dB)
Signal-to-Noise Ratio
>110 dBA (20 Hz- 20 kHz A weighted)
Crosstalk
>66 dB @ 1 kHz
Input Impedance
10 kΩ balanced
Total Harmonic Distortion(THD)
<0.5% from 1 W to full power (Typitcal value<0.05%)
Intermodulation Distortion(IMD)
<0.5% from 1 W to full power (Typical value< 0.05%)
Damping Factor (8 ohms)
>5000 @ 20-200 Hz
Slew Rate
50V/μs @ 8Ω
Front Panel
Indicator LED/per channel
One PCS Green LED: the input signal of XLR ≥ -40dB;
Four pieces Green LED:
display the output signal(-20dB,-10dB,-5dB,-3dB)of SPEAKON
1 piece dual LED(Yellow and Red):
Protective state/Clip stste/Over heat/Over load
Power Switch
Press "I"-on; Press "O"-off.
Dust-proof
Two pieces dust-proof cotton,
it can take off to clean from the bottom of front pannel
Application
Signal in-connection
4 Channel: One balanced XLR(with lock)female per channel;
2 Channel One balanced XLR(with lock)female
and one balanced XLR male per channel.
Signal out-connection
One SPEAKON per channel connect to loudspeakers
Power cord
Fited to the device, and the CSA(cross sectional area)of the cord is 3 x 2.5mm²,
and the card is 1.5 meters long.
Multiple-Functions Switch
Two Sensitivity Switches. One Mode Switch and one Clip Switch.
Structure(The size and weight depend on different series and shipping demand )
Dimensions
482 x 44 x 380mm³/482 x 44 x 470 mm³
Net weight
10Kg/12kg
Packing size
580 x 580 x 119mm³/615 x 615 x 119 mm³
Shipping weight
12Kg/14Kg
FRONT PANEL FEATURE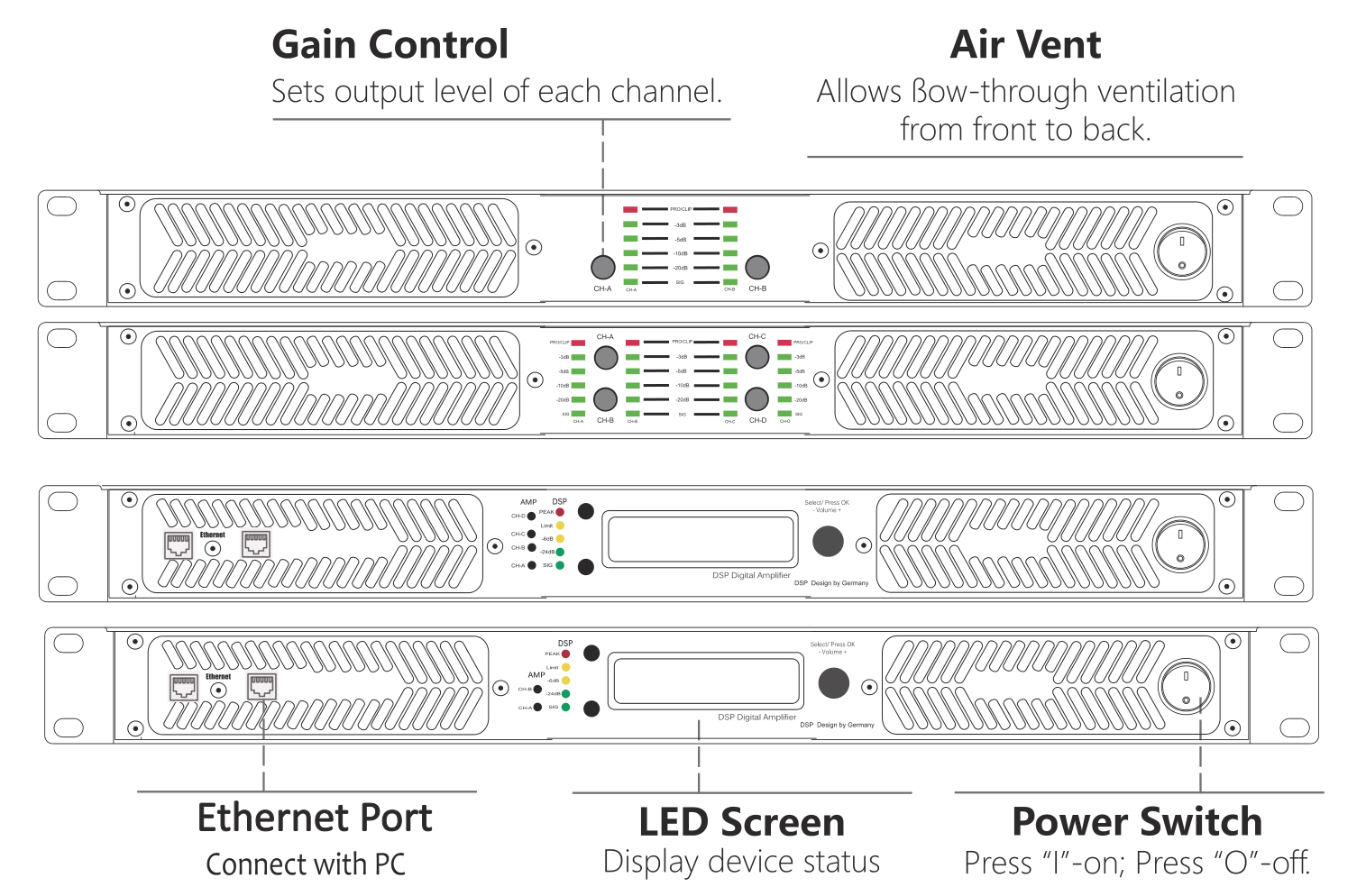 REAR PANEL FEATURE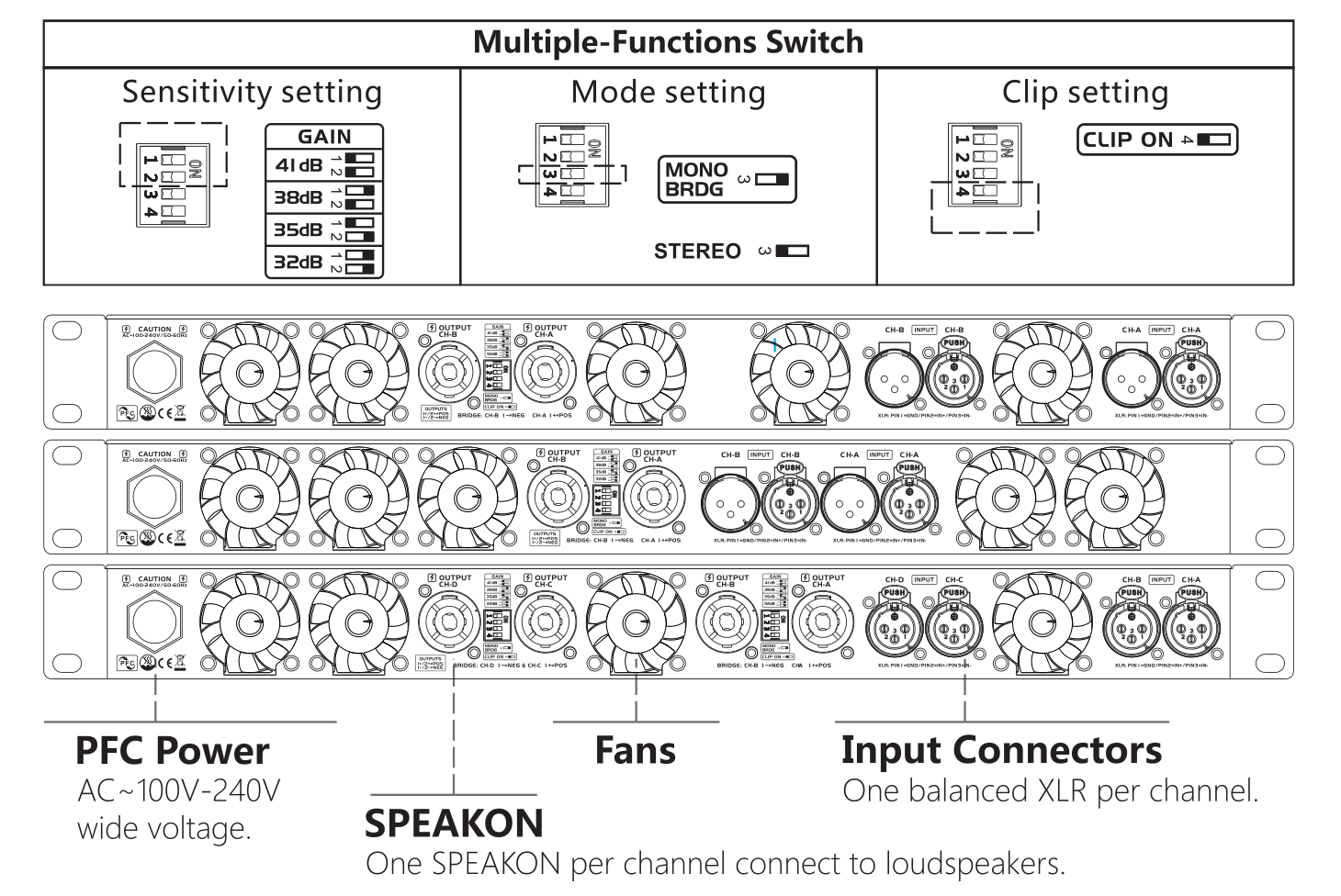 Dimensions and Cooling system
NOTE:
The size is 437mm inside of the device(without the cover plate and front panel).The size is around 472mm of the complete device,but a little bit different size in the different front panel.Some series with different size that had not shown,please learn it in the parameter.


Tunnel through cooling system
Cold air comes in from the front panel of the equipment, forms a duct through the radiator to take the heat away and out from the rear panel of the equipment.